"In addition to being an excellent singer, Holz is a composer of great sensibility... beautiful and provocative melodic lines. But the most significant part of his work as a composer is represented by his lyrics." - Martin Pillsbury, Ritmo Brasileiro.On his new release Minh' Alma Nua (My Nude Soul), Fernando Holz sings and orchestrates original Brazilian pop-jazz music that makes the listener feel that he or she is being spoken to personally. The Boston-based musician from the south of Brazil by way of Europe melds happiness and sadness in superior material with an uncommon ease. Poetry is achieved through his sensitive and careful employment of mood, tempo, melody, and harmony. Never stilted or weak in sentiment, the music makes connections with that of the master, Tom Jobim. A native of Rio Grande do Sul,Brazil, Holz first made a favorable impression on the New England music scene as the vocalist with the popular quintet Gandaya, which created "Brazilian music with a great deal of heart and soul, and not afraid to take a chance or two," - Jeff Turton, WFNX-Radio. He appeared at the Boston-area's premier jazz rooms Scullers and The Regattabar. as well as at the Hartford Jazz Festival before disbanding in the '90s. He's also displayed his sizable musical talent with the Rio Show Band, with Banda Aue, and with Duo Bossa Rio. Outside of the Greater Boston area, Holz has earned a following in New York City by performing at prominent venues like the Zinc Bar, SOB's, and the Queens Theatre. The Fernando Holz Quintet, whose repertoire includes sambas and bossa novas from the songbooks of Djavan and Jobim along with originals and gems from the Great American Songbook, consists of the bandleader, pianist Molly Flannery,bassist John Funkhouser, drummer Steve Rose and trombonist Jon Simmons. Holz also keeps busy as a vocal coach when not performing with his band or making special appearances at Brazilian music shows held at MIT, the University of Massachusetts, Berklee College of Music, the Brazilian Cultural Center of New England,The Acton Jazz Cafe, Amazing Things Art Center, Ryles Jazz Club and many others.
Em Português FERNANDO HOLZ - Cantor/Compositor Gaúcho de Novo Hamburgo,RS - Brasil, Fernando Holz vem se destacando como um músico extremamente competente nas linhas de MPB e Jazz Brasileiro na região da Nova Inglaterra, EUA. No seu novo release Minh' Alma Nua (My Nude Soul), Fernando Holz canta músicas originais de sua autoria que fazem com que o ouvinte sinta se na intimidade de sua sala de estar ouvindo o artista cantar e tocar. Fernando mistura alegria e tristeza num material de altíssima qualidade de uma forma completamente natural e genuína.
Every 3rd Wednesday of the month
Fernando Holz Band
At The Colonial Inn,  ( 48 Monument Square, Concord, MA 01742 ) to hear some Brazilian jazz, bossas, sambas and musica popular brasileira (MPB)!
Featuring these wonderful musicians:
Fernando Holz – guitar & vocals

Molly Flannery – piano, keyboard & vocals 
José Pienasola – bass
Steve Rose – Drums
Plus, enjoy the good food and drinks, friendly vibe and lovely ambiance of the Inn! Hope to see you there! Ate logo!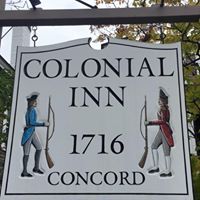 Facebook - Fernando Holz Band